Reception Class pulled on their wellies for an afternoon of exploring. The children collected interesting things to thread on a stick and Miss Hall showed them a large fungi growing on a stump in Forest School.
Working and playing hard in the April sunshine!
Well that was a busy half term!
All in a days work at PWP!
We had a fantastic Fathers Day Lunch today! Thank you Dad's (and mums) for making it such good fun!
2017 May King and Queen Celebrations!
Fun with friends at lunchtime
We all forgot to get dressed today and raised over £180 for the Aylesbury Unit at Warwick Hospital. Thank you everyone!
Year 4 invited friends and family to join them for a meal in their Pop Up Restaurant "Four Italian". From Bruschetta to Pasta and Pesto to Pizza, lots of tummies were filled with the most delicious food. Well done to Year 4, Mrs White and Mrs Farrell.
Another amazing week here at PWP with lots of socks for Downs Syndrome Awareness Day and visits to the world of dinosaurs and the bottom of the sea with Google Expeditions.
The sun is out and much fun is being had here at PWP!
We had an amazing day with the circus skills workshop. Thank you for making us all smile Mrs Knibb!
From dance to science or soap carving to grammar - It's concentration central here today!
From painting our imagination while listening to music to experimenting with homemade parachutes to quiet reading time - that's what makes PWP special!
You can't beat a good book when it's cold and grey outside. We are far too busy learning to notice the weather anyway!
While Year 6 are off having fun in Shropshire we are having just as much fun here!
Our "Can't Touch This" Charity Assault Course was a great success. All children from Nursery to Year 6 completed 4 challenges for our charity of the year, The Air Ambulance! Thank you to our sponsors, Britvic, Keller and Ryton-on-Dunsmore Parish Council and for the support of parents and volunteers.
The day an explorer (otherwise known as Rev Wintle) and our very own PCSO Matt Havelock visited.
It was lovely to see so many people join us for our open maths lessons. Sienna's mum seems pleased to have done well!
Who says school ends at 3.15pm? Tag Rugby, Homework Club, Messy Play & Science Club and that's just Tuesdays!
Reception & Nursery are loving their new "Mud Kitchen". Thank you Mr Wrigley for making it for us!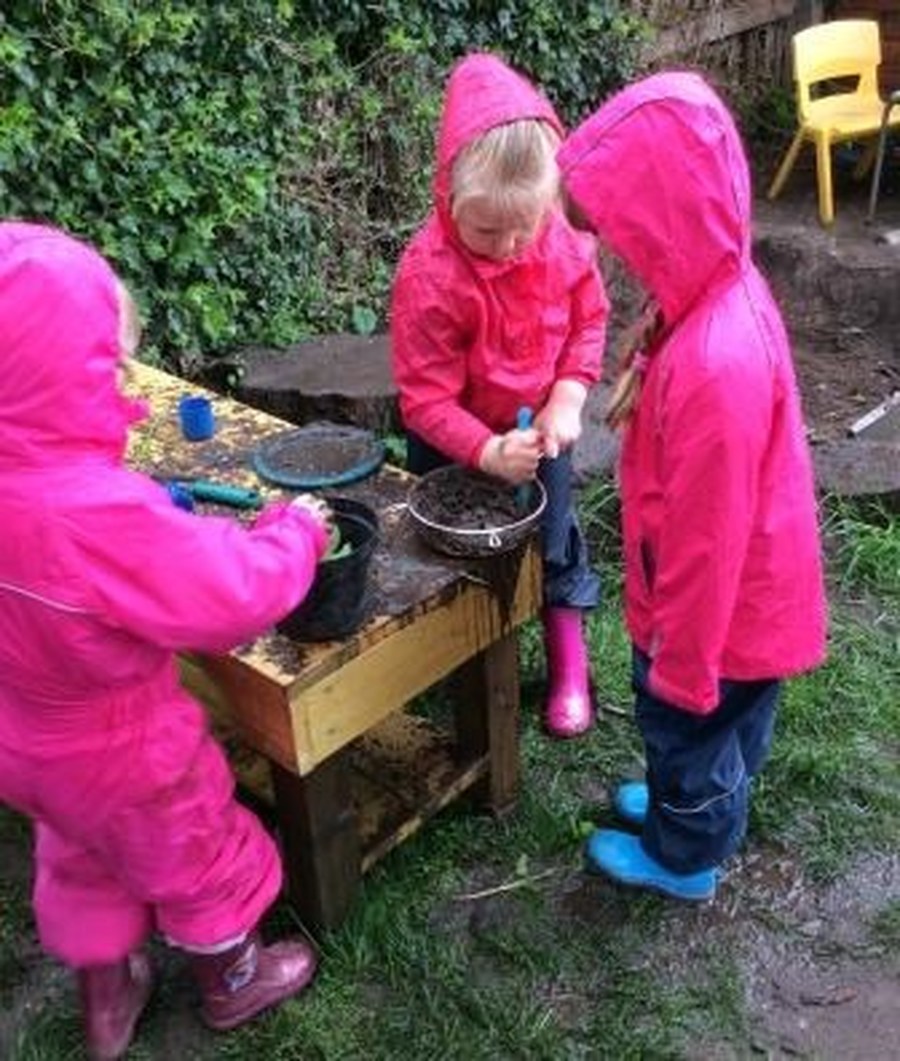 Fun in the sun at lunchtime!
Staring the new term with lots of hard work!
Years 1 and 2 had an amazing day at Compton Verney.
We enjoyed World Faiths Day!